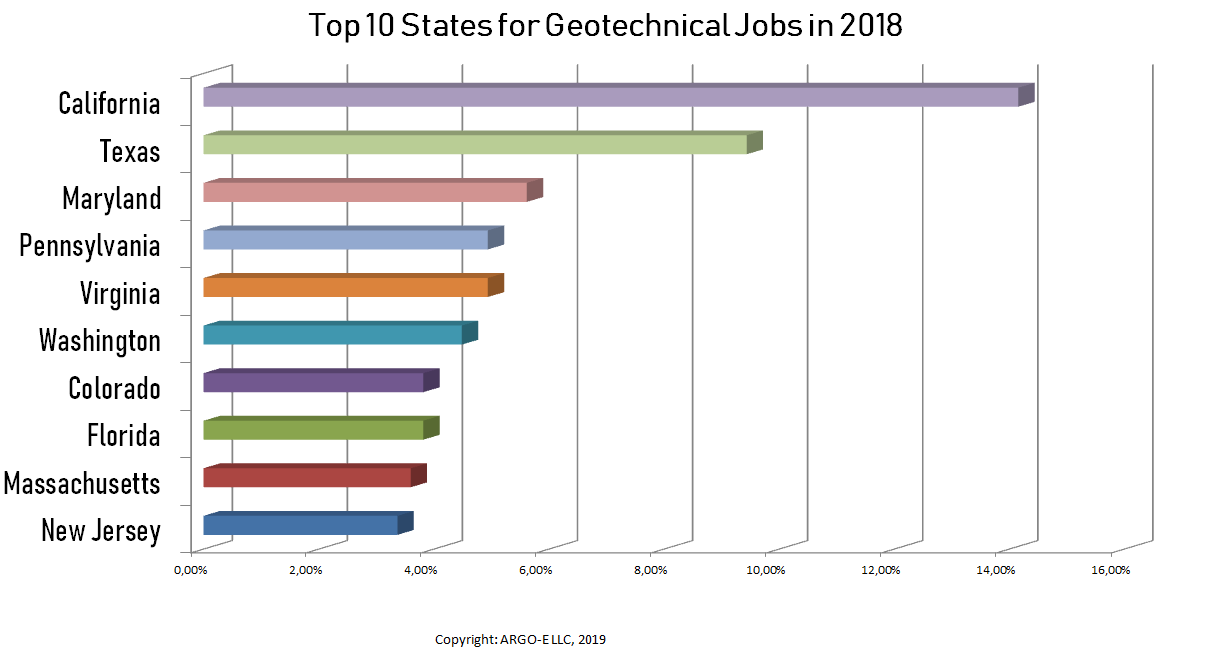 Geotechnical engineering, the branch of civil engineering that investigates the engineering behavior of earth materials and is responsible for pinning infrastructure down on earth, is a career with amazing possibilities! But where should you head to if you want to follow this career?
After analyzing the Civil, Environmental and Construction Industry job posting data from CEECareers.com for 2018,  we are now able to show you the hottest places with the highest demand for geotechnical engineering jobs.
There is significant demand for geotechnical engineers in the U.S., as shown in the map below. In total, 455 geotechnical jobs were posted in the US out of a total of 6832 posted throughout the year. Geotechs are sought throughout the country, and especially the west and east coast.

For the fourth year in a row, the best place for a geotechnical engineer to look for a job is, by far, in the West coast. California, with 14.1% of total jobs posted seems to have the best opportunities!

Second comes Texas with 9.4% of the jobs posted during 2018. This is a significant rise for Texas, compared to 2017. Texas was only 5.9% of jobs posted last year!

Some of the most exciting jobs in geotech positions can be found in Maryland which had 5.6% of  jobs posted. Georgia and Washington both had 4.9% of the available positions in 2018 which makes them rank as the fourth hottest place in U.S. to look for a geotechnical job.
If you wish, you can review our 2016 results here.